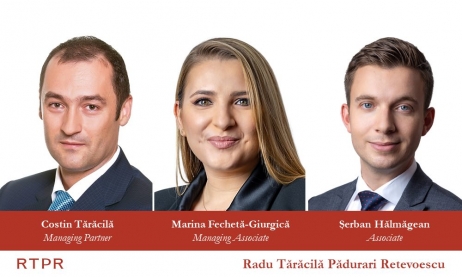 RTPR announces the successful closing of a new M&A transaction, the acquisition of the fitness network World Class Romania by African Industries Group from private equity fund Resource Partners. The deal was closed on 15 July, while the transaction documents were signed in April. Throughout the process, RTPR provided legal assistance to African Industries Group on all phases of the acquisition. Following the acquisition of the 41 World Class centres located all over the country, African Industries Group enters a new segment of business, health & fitness.
The RTPR team was coordinated by Costin Taracila (Managing Partner), while Marina Fecheta-Giurgica (Managing Associate) provided the day-to-day management of the project with the support of Serban Halmagean (Associate). The team further included several members for the different stages of the project, for the due diligence process: Diana Dimitriu, Andrei Tosa (Managing Associates), Codrina Simionescu (Associates), Flavia Mincu, Miruna Tocileanu and Ozana Ghic (Junior Associates). Roxana Ionescu (Partner) and Serban Halmagean advised on competition aspects of the transaction.
"We would like to thank African Industries Group for putting their trust in us for the completion of this first mandate together, a large-scale project of high complexity and which was carried out at an intense pace. For our team, the joy of closing this transaction is doubled by the fact that it is the second time we facilitated the acquisition of World Class. The first time back in 2014, we assisted Resource Partners, also as a buyer at the time, and now we advised African Industries Group. Congratulations to all parties involved in this deal!", said Marina Fecheta-Giurgica, Managing Associate at RTPR.