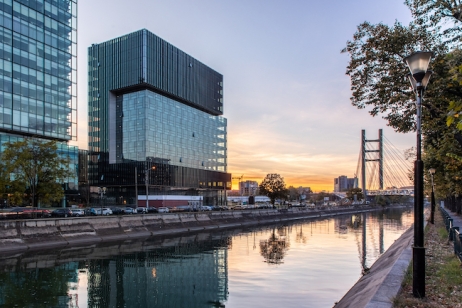 Source: London Building in Sema Parc
The developer River Development announces the lease of a 3,780 sqm space to the Ministry of Transport and Infrastructure, in the London office building in Sema Parc, following an auction process in which it participated and was declared the winner.
The object of the concluded contract is the rental of a compartmentalized and fully furnished office space with an area of 3,780 square meters, necessary for office activity and 90 underground parking spaces, the financing being provided by non-refundable European funds.
The approximately 200 employees of the Ministry of Transport and Infrastructure, from the structures that manage European funds as a management authority and intermediate body, will carry out their activity in the space of three floors (floors 3, 4 and 5) of the London office building, starting with September, after the completion of work for setting out the space.
The London building is one of the newest class A office buildings in Sema Parc and in Bucharest, completed in the second quarter of 2022, with a total leasable area of 21,347 sqm, arranged on 15 levels and having two basements for the places of parking. The building is easily accessible from any part of the city, thanks to the direct connection to the city's infrastructure and to all means of public transport, including the subway, the "Petrache Poenaru" station being in the immediate vicinity.
"We participated in the auction for the allocation of space for the Ministry of Transport and Infrastructure, being convinced by the excellent quality of the London building in Sema Parc and its intrinsic benefits, as well as the facilities found here. We are pleased with the favorable result and, above all, with the fact that our first confirmed "anchor" tenant in the London building is a public institution. Accommodation of the Ministry of Transport and Infrastructure in our building, and also having the experience of the presence of the Bucharest Court (Civil Sections VI and VII), we are creating the premises of an institutional hub in Sema Parc." - declared Tina Virlan, Lease Manager River Development.