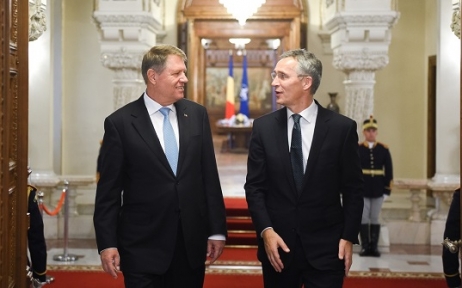 President Klaus Iohannis received NATO Secretary-General Jens Stoltenberg at Cotroceni Palace Monday, with talks on the next summit of the North Atlantic Alliance and the Eastern Flank.
After the talks, the two officials spoke, among others, about the North Atlantic Alliance's relationship with the European Union, saying that these are not two separate projects but are "clearly complementary and must go together", Agerpres reports.


"One issue that we have specifically highlighted is the relationship between NATO and the EU.I think it is extremely important that NATO and the EU don't have different approaches but common approaches, they don't have parallel actions but complementary actions and we have common interests and objectives. I think everyone understands that the EU and NATO are not two projects to choose from, but they are clearly complementary and must go together," said Klaus Iohannis at the Cotroceni Palace, after the meeting with NATO Secretary General Jens Stoltenberg.


The President stressed that the European Union's programs are always complementary to those of NATO. "There is no intention of a European alternative to NATO, there is the intention of a stronger European Union within NATO," the head of state said.


Also, President Klaus Iohannis said that NATO is not looking for a confrontation and is not a threat to Russia, but stressed that a long-term strategy is needed in relation to this country, including dialogue on a strong defence and deterrent position.


"Our goal is peace, not war. NATO does not seek confrontation and is not a threat to Russia, as the Alliance has shown in Warsaw, but Russia needs a comprehensive and coherent long-term strategy." Klaus Iohannis pointed out.
NATO Secretary General Jens Stoltenberg said the Romanian Multinational Brigade is a clear signal of the determination and presence of the North Atlantic Alliance in the region.


"I think it is important to understand that Romania's multinational brigade is only part of our response to a more assertive Russia that has increased its presence in the Black Sea region, especially in the Crimea. The multinational brigade is important precisely because it sends out a clear signal of NATO determination and presence. An attack by an ally against Romania will be seen as an attack on the whole Alliance." Stoltenberg said after meeting with President Klaus Iohannis.


"In addition to the Brigade, we have also strengthened our presence in air space with patrol missions, with contributions from Italy and Canada, as well as the naval presence in the Black Sea with more naval drills and more ships." he added.

He showed that NATO's deterrence and defence position implies the presence of Romanian forces as well as those of the multinational Brigade in the region.


"We have increased our ability to deploy our forces three times. We have a very rapid intervention force that can be deployed within a few days and we have strengthened the connection between the Romanian forces and the NATO forces by setting up small headquarters - NATO forces - which have been installed in several parts of the Southeast Alliance, including Bucharest. We have done much by increasing our presence in Romania." added the NATO Secretary General.