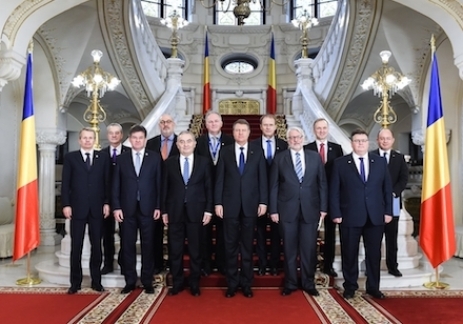 Source: www.mae.ro
Several states of Central and Eastern Europe underscore the importance of NATO's "open door" policy, as one of the most successful Euro-Atlantic policies, and says that the doors of the North-Atlantic Alliance remain open to all democracies sharing its values and contributing to the security of the North-Atlantic area.
This represents, according to a press release issued by the Foreign Affairs Ministry (MAE) quoted by Agerpress one of the conclusions of the meeting of foreign ministers from Central and Eastern Europe - the Bucharest Format, attended by the foreign ministers of Estonia, Lithuania, Poland, Romania, Slovakia and high level representatives from the Czech Republic, Hungary, Latvia and Bulgaria.
"This meeting took place at an important moment for the transatlantic relations. Today, our countries are facing an unseen set of security challenges, including Russia's actions to undermine the European security architecture, and the instability in the Middle East and North of Africa, which contribute, among others, to unregulated migration and terrorism. In this context, the ministers highlighted the need for NATO to carefully monitor the developments in the entire Euro-Atlantic space, mainly those in the region stretching from the Baltic Sea to the Black Sea," the cited source points out. During the meeting, the ministers agreed that the "complete and undelayed" implementing of the decisions made in Warsaw must remain one of the main priorities of NATO.
The representatives of the nine states voiced the determination to continue getting actively involved in this respect, acting firmly for the support of allied solidarity and unity, thus consolidating even more the vital transatlantic connection. Moreover, the states present in the meeting voiced the strong support for the sovereignty and territorial integrity of Ukraine, as well as for the independence and sovereignty of the Republic of Moldova and its European aspirations. They also reiterated the respect for the territorial integrity, independence and sovereignty of Georgia and the full support for its European and Euro-Atlantic aspirations. During the meeting, MAE adds, there was voiced the openness to dialogue with Russia, under the framework established through the Warsaw Summit decisions. On the other hand, the foreign ministers underscored "the disproportionate nature of the Russian intervention in Syria, which undermined even more the regional and international security."