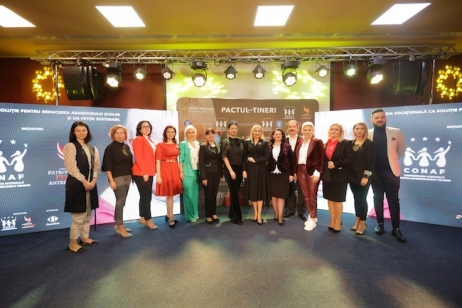 The National Confederation for Female Entrepreneurship organized in Piatra Neamț, the second conference of the national project "Pact for Youth", in partnership with the Ministry of Education, the Ministry of Family, Youth and Equal Opportunities, the Ministry of Labor and Social Solidarity, the local authorities, the World Bank and UNICEF.
The second conference within the national program "Pact for Youth", described the significant impact of the alarm signal raised in the first stage of the Pact's caravan, from Iași, regarding the seriousness of the school dropout crisis. The government authorities have finalized support projects for children and young people at risk of dropping out of school, developed supporting legislation, obtained European funding and allocated significant amounts from the state budget, and despite this, we are still far from generating solutions that reduce the school dropout rate in Romania. The debates at Piatra Neamț showed the breadth and diversity of the problems and barriers to reducing school dropout.
"We are in first place in the EU in terms of the number of births among mothers under the age of 15, according to Eurostat, and we have a lot of abortions among minors. Dropping out of school exposes the vulnerabilities of Romanian society. Whether we are talking about juvenile delinquency, underage mothers or the use of prohibited substances, a phenomenon that is growing among young people especially in rural areas, it is clear that we must act through integrated policies, actors at the local level working together (school, child protection, health, police) and central authorities.
The business environment has the strength and capacity to work alongside local and central authorities, to find solutions and help implement them. That is why I will request Prime Minister Nicolae Ciucă, whom I thank for the openness shown and the support of this project, on behalf of CONAF, initiator of the Youth Pact, to create an advisory committee whose main objective is to find solutions for school dropouts in Romania and which includes the ministries directly involved: the Ministry of Family, Youth and Equal Opportunities, the Ministry of Labor and Social Solidarity, the Ministry of Education, the Ministry of Justice and the Ministry of Health. With each debate, I begin to think that the appropriate title for the "Youth Pact" would have been adults without a future, or perhaps a society with a future in danger. Tomorrow's adults, regardless of how much technology will evolve, will develop in an educational poverty that I consider more serious than the hardships of previous generations", said Cristina Chiriac, president of CONAF.
The event started with the message of the Prime Minister of Romania, Nicolae Ionel Ciucă, and was moderated by journalist Laura Hulubei.