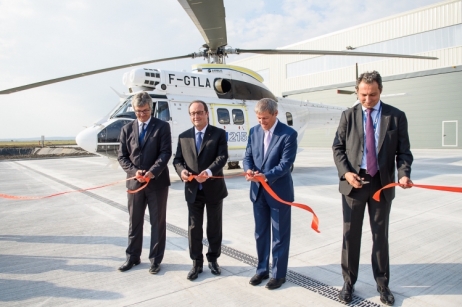 Source: www.gov.ro
Prime Minister Dacian Ciolos has attended alongside the President of the French Republic, Francois Hollande a new assembly plant of Airbus H215 helicopters, on the IAR Ghimbav platform, Brasov. Development of this project will create 350 new jobs until 2020. It is about a project implying investments worth EUR 51, 7 million, EUR 15, 5 million of which in infrastructure, and which benefits of state aid from the Romanian Government, in amount of more than 5 million euros.
"In the spirit of the strategic partnership between Romania and France, we wanted to mark together a new success story in the bilateral economic cooperation, by developing a field with great added value for both parties – the aeronautics. We inaugurated today a long term investment, in a strategic field which combines the exchange of technology, professional training and new manufacture series", Prime Minister Dacian Ciolos has stated on this occasion.
Along with the senior French official, the Head of the Romanian Executive met several of the plant employees and had a discussion with the Airbus Helicopters Romania management representatives who presented the guests with the development stages for this project which was initiated after, in November 2015, Airbus Aviation had been invited to invest and develop its production capacities in Romania, alongside Romaero and Aerostar.
Besides the manufacturing lines, the plant opened today will have a research bureau, sales department and a professional training center. In addition to these, the strategy presented by the French investor includes association with the aeronautical societies in Romania and the helicopters manufactured at Ghimbav in the next years, will serve the global market. The first helicopters Airbus H 215 manufactured in Romania are estimated to be out of the assembly line by late 2017- early 2018.