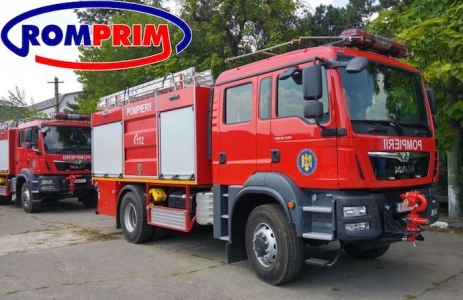 Source: www.romprim.ro
Businessman Radu Lucianu took over 55% of the shares of Romprim SA, the largest producer of specialised motor vehicles in Romania. With the acquisition of the majority stake, Radu Lucianu was also named General Manager of the company.
The shares were taken over by a public offer launched in November 2017. By transferring the majority stake, the production activity and assets of the company are managed by a management team with extensive private experience, led by Lucianu. With over 30 years of experience in the field of business, business administration, investment and real estate development, Radu Lucianu extends its operations to the production area. In parallel, he will continue to work on the property market through Capital Property Advistors, which he founded in 2011.
"Romprim is a company that has played an instrumental role in my professional training. Immediately after graduating from the faculty, I joined the Romprim team, where for 6 years I participated in important stages in production processes and various projects. I am glad to return from the position of General Manager and to contribute to the development of the company and the diversification of its activities in the light of the experience I have gained over time, "said Radu Lucianu, General Manager of Romprim.
Romprim shareholders approved on Monday, May 14, 2018, the appointment of Adrian Creţoiu, Adrian Mihaila and Alexandru Stancov, on the Board of Directors (CA) of the company. The change in the shareholder structure, which is part of the series of changes aimed at simplifying and streamlining the company's management structure, was announced at the Extraordinary General Assembly and the Ordinary General Shareholders Meeting Romprim earlier this week. The three new members of the CA have extensive experience in national and international private affairs, focusing on business administration and development, financial and real estate consulting.
"The next period will be marked by a series of strategic actions aimed at the diversification, growth and re-technologization of Romprim. Our priorities include the stabilization of the company's results, as well as the cessation of operational losses in the coming years, in order to remain competitive and to ensure natural growth in the future, "added Radu Lucianu.
The legal advice for this takeover was provided by the Biriş-Goran law firm.
With more than 50 years experience in the construction of special transport vehicles, urban vehicles and spare parts production, Romprim is the largest automotive manufacturer in Romania and the only manufacturer of fire-fighting vehicles in the domestic market. The company carries out partnerships in the field of bodywork for various vehicles produced by companies such as Roman Braşov, Peugeot, Dacia, Renault, Iveco, DAF, Nissan or MAZ.