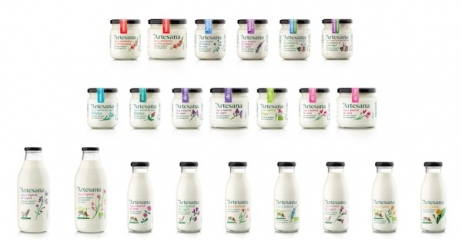 ROCA Investments announces the entry into the shareholding of Artesana, a Romanian brand of artisanal dairy products on the local market. By acquiring a 20% stake, ROCA will focus on building and equipping a new dairy plant, which will increase the company's production capacity by at least three times.
"ROCA Investments acquires a 20% stake in Artesana, one of the most well-known Romanian artisanal dairy brands. The company is at the beginning of a development stage, with prospects for organic growth and multiple possibilities for expansion in a sector on a consolidation trend. Beyond that, the arguments behind the decision to become shareholders in Artesana were the scaling potential of the company, which operates in an area targeted by ROCA " said Ionuț Bindea, Investment Manager of ROCA Investments.
Started as a small family business in 2007, Artesana currently sells premium natural artisanal dairy products. As a result of the increase in demand for 100% natural products, Fabrica Artesana from Tecuci has reached the maximum threshold of its production capacity. In order to cover the growing demand, the Donici family together with the ROCA team will develop a new factory on the existing land in Tecuci, in order to triple the production capacity. The total value of the project is approximately € 4.6 million.
"ROCA appeared when we needed a partner to get involved with us in business so that we could take the company to another level, in which to meet the demand of the artisanal dairy market at the necessary volumes. The community formed by ROCA, as well as the company's approach to acting together convinced us that it is the right partner for this important step, said Daniel Donici, Co-Managing Partner Artesana, who runs the family business with his wife.
"With ROCA together, Artesana will build a new factory optimized according to Artesana's mission of minimum milk processing, intervention as short as possible in the thermal and technological course and therefore preserving the natural qualities of milk from farmers around Tecuci", said Alina Donici, Co-Managing Partner Artesana.
The value of the dairy market has experienced a significant expansion in recent years, reaching approximately 5.4 billion lei in 2020, an increase of approx. 60% compared to 2008, although the number of companies decreased due to the consolidation trend in the market. The organic segment, in which Artesana is present with a wide range of products, has benefited from an accelerated growth by popularizing the health and wellness trend, which is becoming more and more appreciated by Romanian consumers.