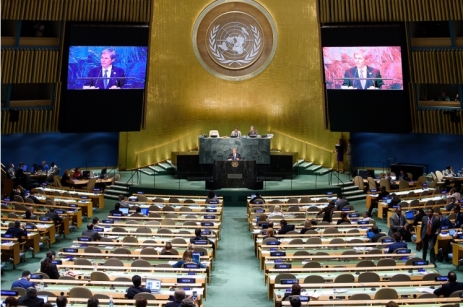 Source: www.gov.ro
Prime Minister Dacian Ciolos attended the opening of the 71st UN General Assembly session, the Leaders' Summit on the global refugee crisis. The refugee crisis is one of the main topics of the array of events taking place these days, in New York. In this context, Prime Minister Ciolos presented Romania's contribution to the effort of international community to solve the refugee crisis, emphasizing in his speech the fact that: "The most efficient way to cope with the crisis is to address its root causes and to support the refugees' countries of origin as well as countries of transit. As an EU Member State, Romania has supported a coordinated EU response, participating in the relocation and resettlement process on a voluntary basis".
In the Open Government Conference, co-chaired by the President of France and President of South -Africa, Prime Minister Dacian Ciolos mentioned the importance of open government in implementing participative democracy through Government's involvement and civil society's accountability for the economic and social development of the country.
On the sidelines of the UN session, Romanian Prime Minister had meetings with his Canadian counterpart, Justin Trudeau, with Finland's President Sauli Niinisto, with Egypt's President Abdel Fattah El Sossi, with UN Secretary –General, Ban Ki-moon, and United Nations Environment Programme (UNEP) Executive Director Erik Solheim.