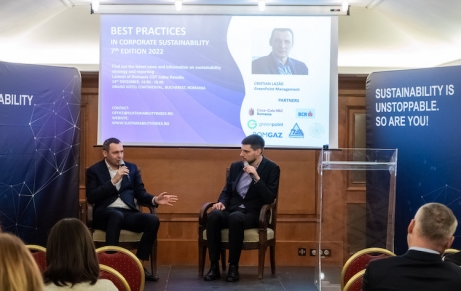 During the presentation event of Romania CST Index 2022, Cristian Lazăr, Board member and Managing Partner GreenPoint Management, was awarded the Gold level recognition award following the analysis of non-financial information on sustainability governance, economic, environmental and social impact.
After two years in a row, where it was evaluated and awarded Silver recognition at Corporate, Sustainability & transparency Index in the highly select company of the largest multinational companies, GreenPoint Management is strengthening its innovative position in the field of reporting of the elite entrepreneurial business.
Romania CST Index is a complex analysis based on a measuring instrument with 78 sustainability indicators, grouped into 10 categories. Greenpoint Management is the first company in the field of waste management in Romania to receive year-on-year corporate sustainability awards in Romania.
In November, GreenPoint Management launched its fourth consecutive Sustainability Report for 2021 and thus increases its impact year after year as a leader in the OIREP industry.
Greenpoint Management is a company that implements extended producer responsibility; takes over environmental obligations regarding the management of packaging placed on the national market and reaches recycling/recovery targets. Greenpoint Management holds a market share in the OIREP industry of 20% of the total packaging introduced annually, for which it meets recycling targets.