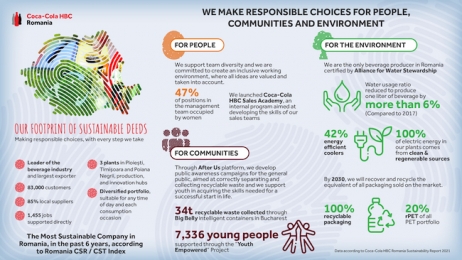 Coca-Cola HBC Romania, the local beverage industry leader, publishes its latest sustainability report, a document that presents an overview of the company's sustainability vision, goals, and milestones, based on non-financial results for 2021.
Coca-Cola HBC Romania is the first local company in the FMCG industry to produce a sustainability report at international standards and among the first local companies to publicly present such a report.
Over the past few years, Coca-Cola HBC Romania's sustainable practices have earned the company several recognitions, one of the most relevant being the title of Most Sustainable Company in Romania (according to the Romania CSR/CST Index study, conducted by the independent consultancy The Azores), obtained six years in a row (2016 - 2021).
"We are the first company in the FMCG industry to produce a sustainability report. We report transparently and in compliance with international standards, aiming to ensure that our sustainability performance reflects the footprint of a change for the better. Sustainability and non-financial performance reporting require us to be demanding with ourselves, constantly asking what we can do more and better, to act courageously. Evaluation helps us improve our performance and calibrate our efforts. We constantly invest and innovate to achieve ambitious targets and we involve our entire team in this journey. Every annual progress, whether we are talking about resource consumption, community projects – is supported by investment and engages a dedicated team, and our commitment is firm: we never settle. We strive to be better today than yesterday and better tomorrow than today." - Alice Nichita, Corporate Affairs & Sustainability Director, Coca-Cola HBC Romania.
The company's objective is to progress, year after year, towards an even more environmentally, socially, and economically responsible activity, in collaboration with society and stakeholders.
Solid local footprint
Coca-Cola HBC Romania's business model aims at creating value in the local economy through a strong market presence, local partnerships, and investments.
Ploiești, Timișoara and Poiana Negrii plants are regional production and innovation hubs, with exports to 14 countries

100% recyclable packaging for the entire portfolio of beverages

Coca-Cola HBC uses rPET (recycled PET) for 20% of its total portfolio bottled in PET.

Coca-Cola HBC Romania serves 83.000 customers and diversified portfolio, suitable for any time of day and each consumption occasion

The company's business supports local businesses, with 85% of suppliers being local companies

1,455 jobs supported directly in 3 plants, sales teams, and headquarters.
Investment in team training and development, diversity, and inclusion
Coca-Cola HBC Romania invests in the training and development of people, constantly offering them opportunities to improve their skills, and cultivates diversity, inclusion, and equal opportunities.
Coca-Cola HBC Sales Academy, an internal program aimed at developing the skills of our sales teams

Leader Labs and Guiding Coalitions, programs designed to develop the Agile and strategic leadership capabilities of the management team.

47% of positions in the management team occupied by women.
Care for the environment and resources
Responsible water management and reducing consumption in the production process is a priority sustainability direction for Coca-Cola HBC Romania.
Coca-Cola HBC Romania reduced by 6,34% water usage ratio to produce one liter of beverage, between 2017 – 2021

We are the only beverage producer in Romania certified by Alliance for Water Stewardship for all three plants, the most important certification for companies aiming at efficient water management.
Investments in energy efficiency & emission reduction
In 2021, the Coca-Cola HBC Group announced its NetZeroby40 commitment, which involves reducing emissions across the entire value chain to net zero by 2040. In Romania, initiatives implemented to meet this target include:
100% of electric energy from clean and regenerable sources

Increasing the use of recycled PET (rPET) in the production of new packaging.

Replacing coolers with more energy efficient variants. As a result, 42% of the company's coolers customers locations use now 50% less energy than in the past.
In terms of sustainable packaging management, the company's vision, A World Without Waste, involves initiatives that address the entire lifecycle of a package, from design to collection and recycling. Key commitments:
Recover and recycle the equivalent of all packaging sold on the market, by 2030.

Increase the use of recycled PET in packaging to 35% by 2025 and 50% by 2030.

100% recyclable packaging, by 2025.
Constant community involvement
With the mission of leaving a better world After Us, through the platform with this name and together with its partners, Coca-Cola HBC Romania has been involved in the community in 2021 as well, through programs to support vulnerable categories or youth, but also through public awareness campaigns, aimed at correctly separating and collecting recyclable waste.
7.336 young people supported through the "Youth Empowered" Project (La TINEri este puterea), by organizing personal and professional development trainings.

More than 860 people managed to get a job, with the support of the advisors of the "I Work Again" program, in 2021.

More than 15,000 consumers involved in the separate collection of waste, within the awareness projects.

34 tons of recyclable waste collected in 2021 through Big Belly smart container network, in Bucharest.
Coca Cola HBC Romania's Sustainability Report is available here.