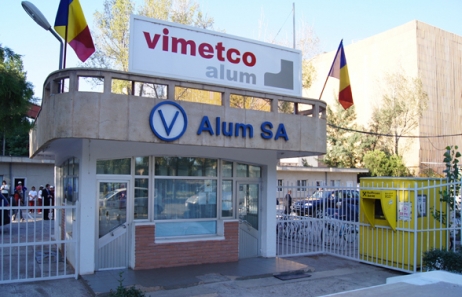 Source: www.alum.ro
The Black Sea Trade and Development Bank (BSTDDB) and Garanti Bank Romania will provide USD 25 million loan to Alum, Tulcea - the sole alumina producer in Romania and one of the largest in Central and Eastern Europe, which is part of ALRO Group. BSTDB's financing amounts to USD 20 million, while the remaining amount will be provided by Garanti Bank. The funding will be mainly used to continue the Company's investments aimed at reducing its carbon footprint, which have begun a decade ago.
"We are pleased to start our cooperation with ALUM, a leading Romanian company and a strong international player. BSTDB's financing, provided in partnership with Garanti Bank, supports the Company's investment plans, expected to result in increased production and diversification of the product range. Our financing has a strong development impact through the increase of energy efficiency and sustaining environmental compliance. BSTDB's loan to ALUM will also enhance regional cooperation through exports in response to the increased demand from new markets, including from Turkey", said Hasan Demirhan, BSTDB Vice President Banking.
"Garanti Bank has a long-term collaboration with BSTDB. At the same time, we believe that businesses have responsibilities towards the local communities and the environment. Thus, we have always been keen to support ambitious projects who have sustainable development goals and we will continue to do so long-term. The funding granted to ALUM confirms this. Garanti Bank is an active member of the Romanian Green Business Council and, therefore, adheres to the principles of responsible and durable development thus supporting projects with high social and environmental impact", stated Çağri Memişoğlu, Deputy General Manager Garanti Bank.
"ALUM has implemented in the last years an extensive investment programme aimed to increase its energy and processes efficiency while complying with the environmental regulations in place. This new financing obtained from reliable business partners such as Garanti Bank and BSTDB represents a new step forward for continuing our long-term investment programme, focussed on technology upgrading, products portfolio's diversification, development of new value-added products and safety and environmental protection projects", said Gheorghe Dobra, CEO ALUM.
Between 2009-2016, ALUM invested USD 28 million to upgrade part of the existing equipment with the aim to make the production process more efficient and to comply with the European norms on environmental protection. To date, ALUM's efforts have reduced its carbon dioxide emissions by 57 percent. ALUM has also partnered with a research&development consortium organized by European Aluminium Association to launch a four-year study aimed at exploring environmentally-friendly new uses for bauxite residue in industries in which it is not currently used.